Is outsourcing BIM going to solve your problems?
Reading a recent
LinkedIN rant on industry specialist Adam A.D.B. page
about how outsourcing modelling is a bad idea I thought that sharing my experience would be a good idea.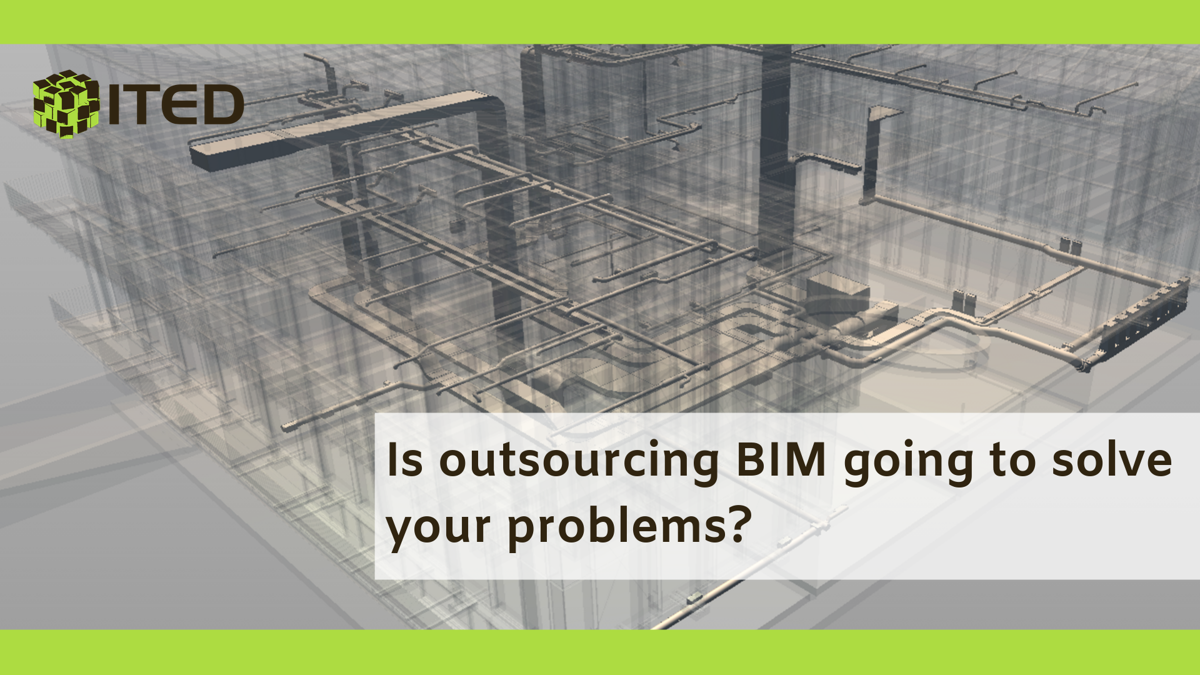 ---
My company ITED, situated in Latvia, but working also in the UK and other countries, specializes in BIM related services - modelling, BIM coordination, information and tender management, teaching students at university and private courses and other.
Latvia is a small European country with approximately 2
million inhabitants. Some of the big drawbacks to this is having a hard time finding enough qualified staff and the construction market is very limited. This makes us also in the position to be searching for work outside our borders.
To offer different services only in the field of BIM, have quick response times and do quality work without charging something astronomical requires collaboration. And this is were outsourcing can help a lot.
There are a lot of qualified people out there that prefer not to change their location just for the sake of earning more or sometimes other factors could be the cause - family illness etc. These qualified specialists can be found not only as freelancers in your own country, but also abroad. Countries like India, Russia have a lot more people willing to work abroad, but not leaving their country.
What are the benefits to us?
There are quite a few. The most beneficial to us:
access to experienced people and specific skills - engineers, architects, programmers and other;

ability to mobilize quickly the necessary amount of people. If deadlines are tight and you are capable to manage, it is possible to attract multiple people at the same time.

flexibility to provide a wide area of services and expertise to our clients and being able to deliver the results;

profit - without it no business can exist. This is crucial to be able to evolve, educate, innovate and also give to the ones most in need.
What are the benefits to them?
This is of course my perspective, but I can look at it both from the employers side as well as the employees.
Freedom to work from basically anywhere. India, Ukraine, but why not a holiday house somewhere close to the nature? Good internet connection though is a must;

Possibility to probably earn better than the average person in their country;

Access to international projects and experience;

The job can be very interesting - finding solutions to problems only a few have faced.
But what about the problems?
Reading the LinkedIN post a lot of negative feedback is found about the quality, trustworthiness etc.
How to deal with that? I give my experience and advice:
Evaluate your potential partners - you do job interviews to hire new staff, do the same with the ones you are trusting your work. It takes time, it takes a strategy, it pays off well;

Define precisely what is expected and when. We usually create a well defined Brief which is part of the contract both with our client and our partners.

Create quality assurance guidelines for yourself and your partners. BIM projects can be very complex and even experienced people can make mistakes. One way to reduce them is to have clear rules and how to follow them. Share your QC methods with your partners.

Have in-house capabilities to do everything you ask from your partners. If you want to be sure about the quality, QC still needs to be done in-house. Also if mistakes are made and need to be quickly corrected you are able to step in quickly.

Pay appropriately- experienced and trustworthy people are going to be key to your outsourcing success. We pay what we are asked + all the taxes and always have contracts in place.

Project management - managing people and projects around the globe takes skill and experience. Invest in these skills too.
Outsourcing yes or no?
For us it is definitely yes. This opens doors to a lot more possibilities to grow our business and participate in various projects. Is it easy? No. It takes time, resources, experience to be able to manage all the people, projects, problems that occur.
No comments
Leave a reply