Case Study - BIM pilot project of Latvia
BIM emerges in Latvian public sector - pilot project highlights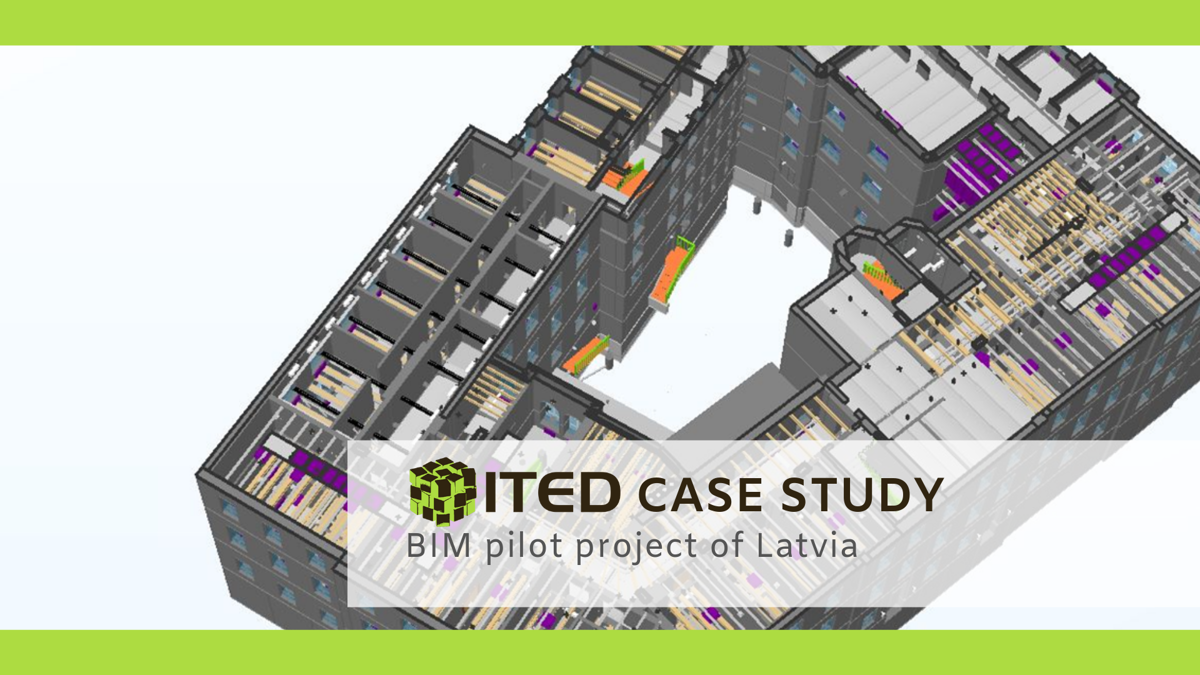 Earlier this year ITED's team manage
d
the
first Latvian national BIM pilot project for
SJSC State Real Estate
(Valsts
Nekustamie īpašumi, VNĪ)
.
The p
roject
goal
was to
assess BIM workflow in comparison to a
traditional 2D workflow for a medium
-
size refurbishment
(7
000 sqm).
Scope of works
included 2D
-
3D conversion, BIM coordination, quantity
take-off and
estimate comparison, 4D BIM and other tasks.
The
P
ilot
contract
was won by Associaton for Construction Industry Digitalisation of Latvia
(BUVID)
with
ITED
being among its founders
.
In total,
11 companies and more than 25
BIM professionals
were involved
in the project
deliver
y
.
T
his case study
explains
why one of the biggest
Latvian real estate
owners decided to
procure
BIM
for
all future projects.
---
Location -
Aspazijas boulevard 7, Riga, Latvia
(
map
)
Employer
-
SJSC State Real Estate
(Valsts
nekustamie īpašumi, VNĪ)
Total project budget - 10
.4 mil EUR
Gross floor area
- 7
000
sqm
(
5
storeys and basement)
.
New
function - prosecutor
's
office building
Phase 1
: Nov
2018 - Jan
2019
Phase 2
: Jan
2019 - ongoing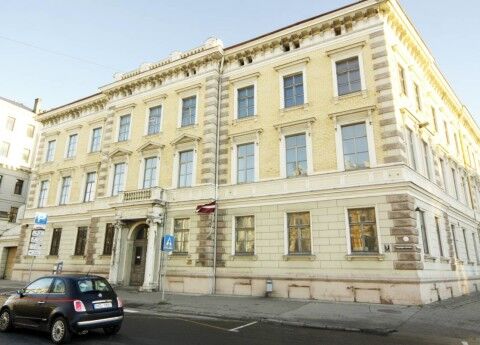 Main facade before refurbishment
The building is situated
at the border of
the
O
ld
T
own of Riga and is 130 years old.
It was decided that the
P
ilot will be
executed
in parallel with construction works after the design had already been done.
The process allowed to
compar
e
results and
amount of
issues
identified with BIM and on-site. Consequently, solid
indication
s
regarding the potential
amount of
savings were revealed, in case
BIM had been introduced earlier.
Deliverables, work packages
and
activities
The technical specification
(TS)
defined
the tasks that had to be done and
they
w
ere
divided into three
deliverables
- BIM development,
BIM
analysis and As
-
built
BIM development
.
The first two
had the duration of three months, and they are covered in this report
. The third
is still
in process
.
The main
work packages
(WP)
were performed
in the following sequence
:

The first
Pilot WP
was
to
develop a BIM
E
xecution
P
lan
(BEP).
The
TS
required models to be developed
at BIMForum
LOD300
. LOD definition
is a common approach to simpl
ify the
defin
ition of
what needs to be done.
T
hough
, it
usually causes problems and
Pilot was no exception
-
often defined LOD was insufficient for other activities,
e.g. comparison of quantities.
Such
requirements were
detailed and documented
in the BEP.
In parallel with
BEP
preparation,
CDE was
deployed
.
CDE solution was provided by the Latvian startup company OROCON.
The second
WP
was to create
BIM
models from 2D documentation
of
architectural, structural &
MEP
disciplines.
M
odelling
timeframe
was very short - 3 weeks.
Few agile speed-improving decisions
were made:
3
separate
companies were develop
ing an
architectural model and the same amount
-
structural model. Revit work
sharing is common in
one office, but when it comes to 3 companies
collaborating - drawbacks arise
.
IT support and
private server
configuration were required
.
As a result, models were delivered successfully after one building was modelled simultaneously by 8 different companies.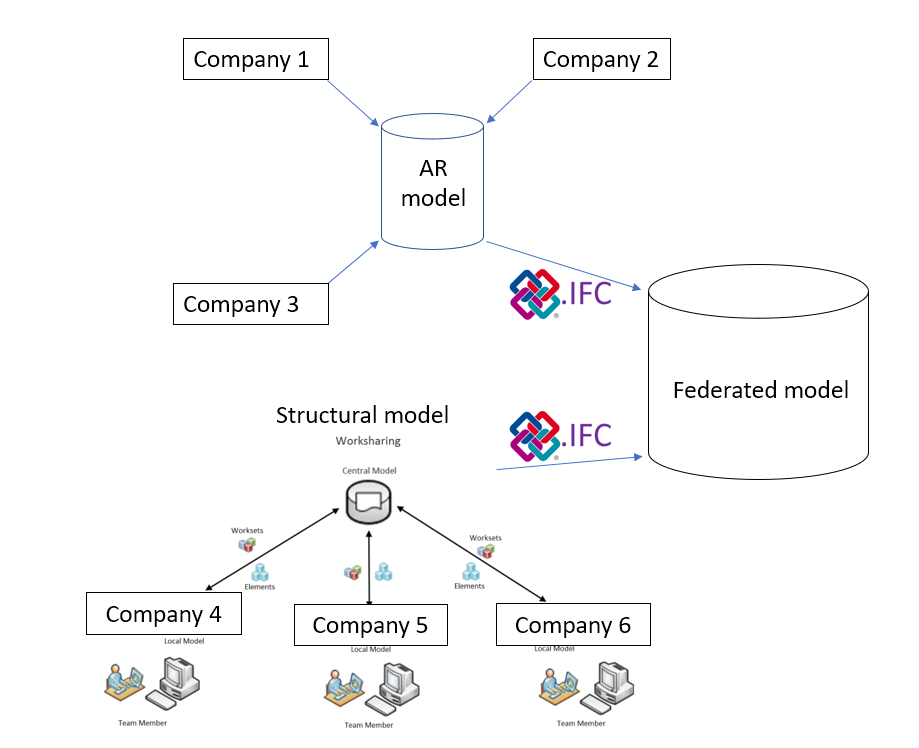 Woksharing between companies using Revit

During the modelling stage
,
more than 100 design errors were found, missing or conflicting information. Many of these issues are quite impossible to make when 3D models are developed. For example
,
the
same objects visible in one drawing were missing in the other, vertical pipe symbol locations were different between levels and other.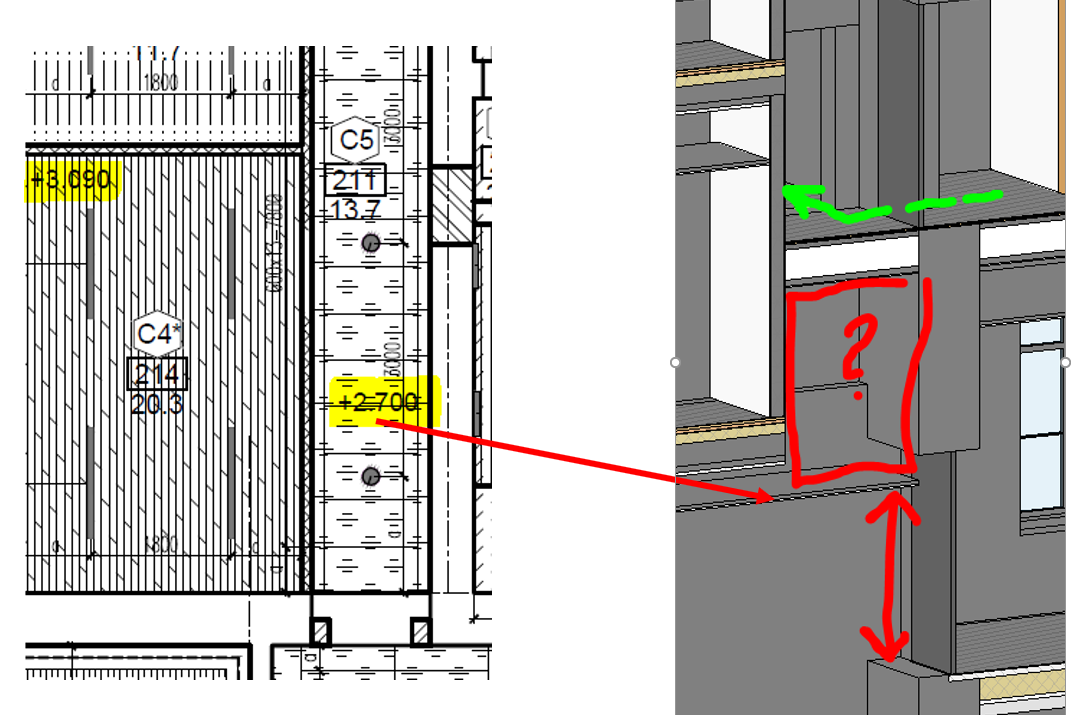 Celings in front of doors
To support one of the BIM uses, quantities comparison,
separate models for existing
, demolition and new construction phases were developed. This also proved
to be valuable
during
the laser surveying stage
and spatial comparison of models with point clouds. In parallel,
the design errors
of information gaps
were aggregated in a single report and presented to the
employer
.
The third
WP
in
cluded the
creati
on of the
federated model and
performing
BIM coordination.
Two
methods
were used:
walkthroughs/sectioning/filters and rule
-
based
automated
clash detection. Each discipline
model
was checked with itself and then with all other disciplines
using
Navisworks Manage.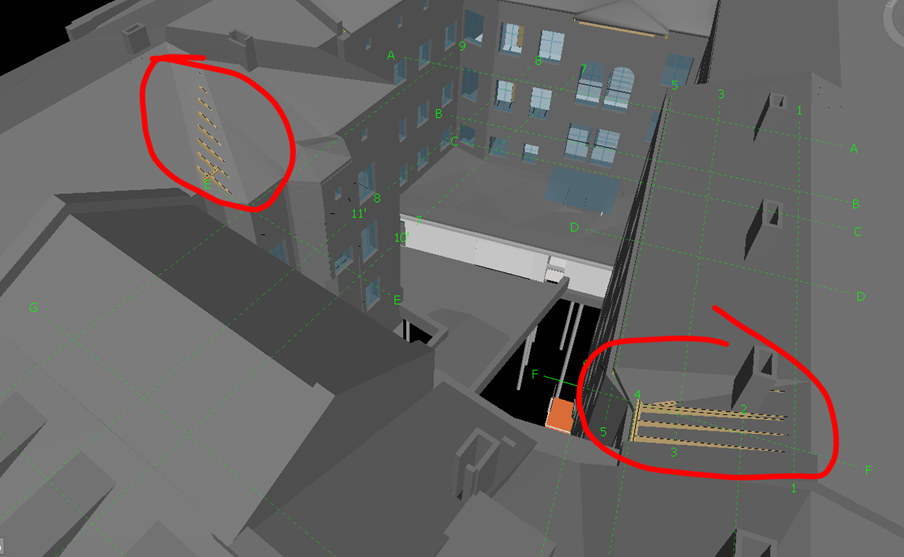 Structural elements outside of the roof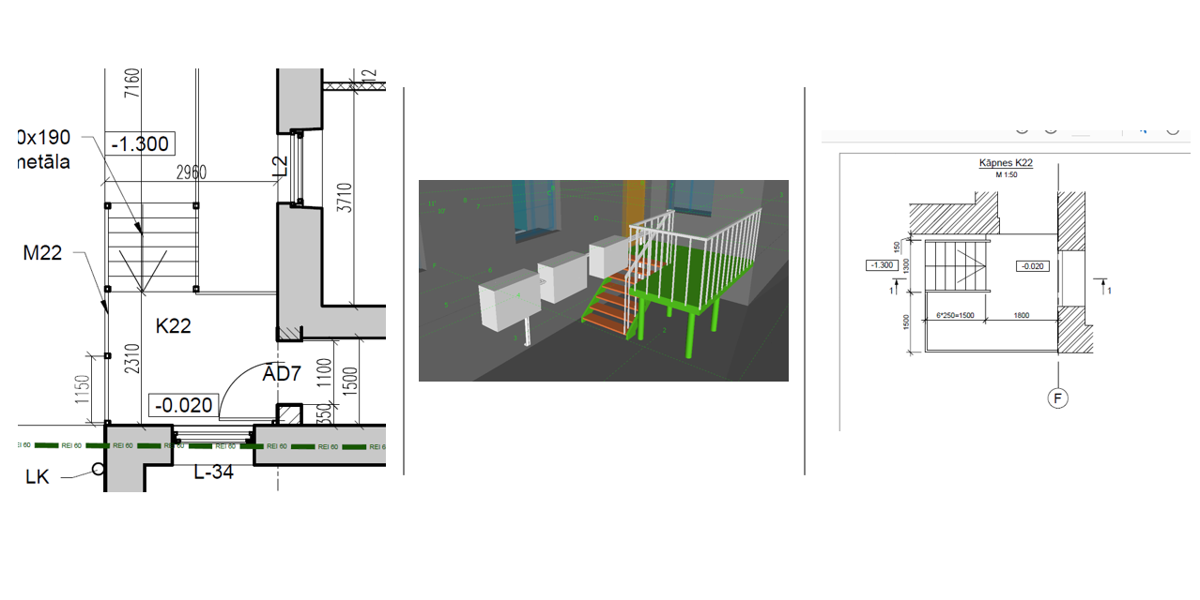 Differences between architectural and structural drawings in the same location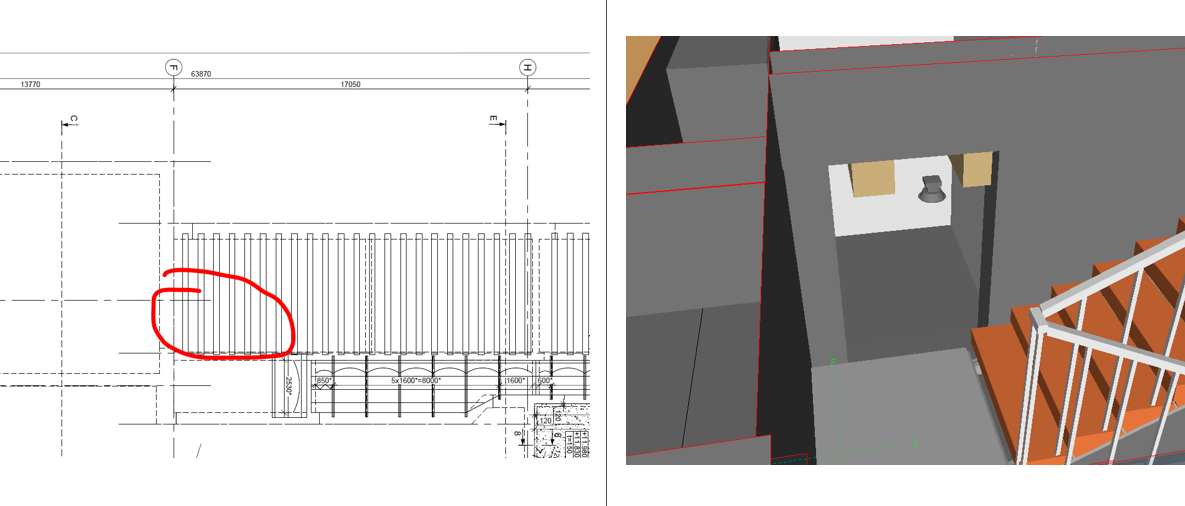 Levitating structural beams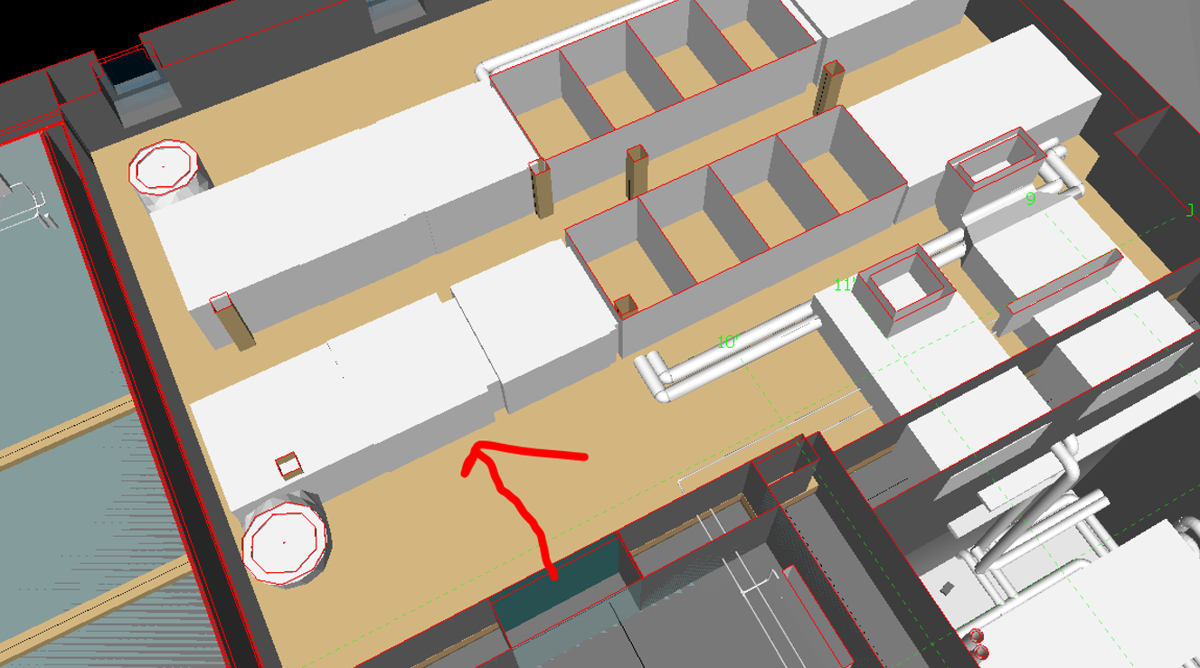 Mechanical equipment colliding with structural elements and blocking way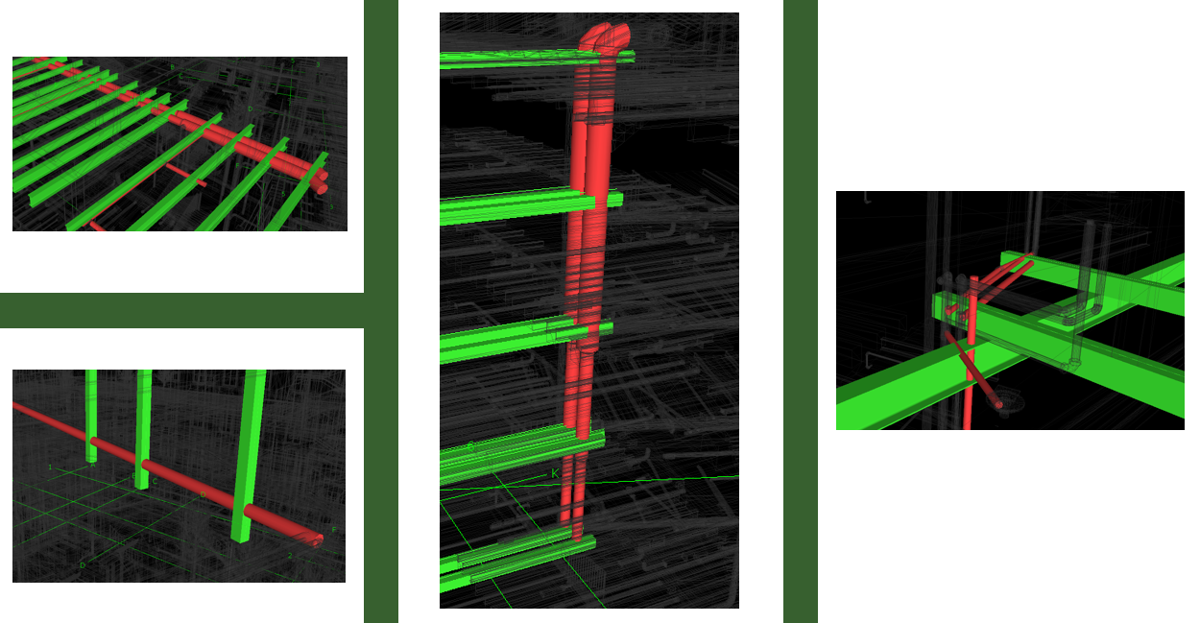 Clashes between pipes/ducts and structural objects


Clashes between ducts and structural objects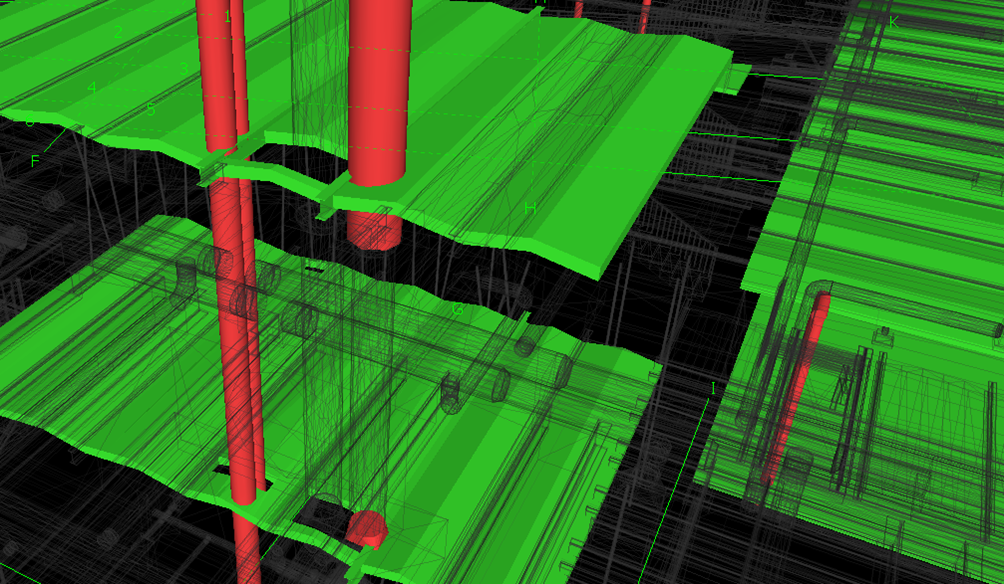 Misplaced structural openings

In total, 40 issues were identified during visual coordination and 180 during automated clash detection. Most of the issues were replicated across the building, and one group could include hundreds of similar clash instances across the building, for example, pipe clashes in the same model.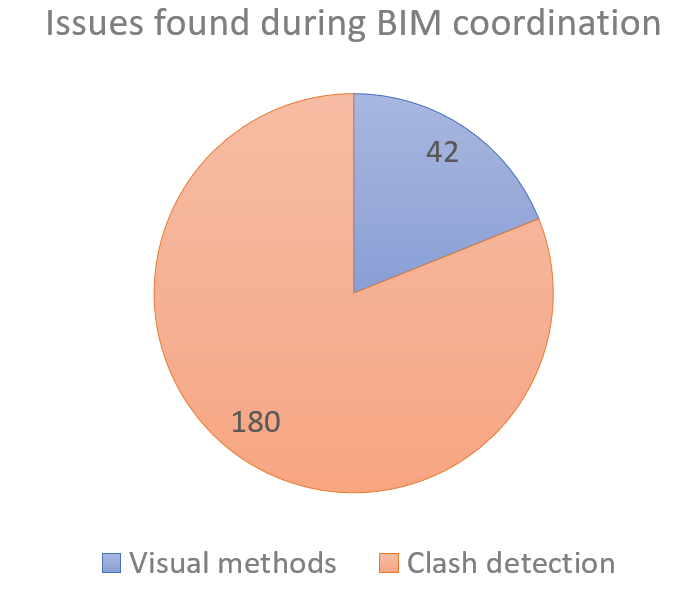 A simple estimate shows that dealing with these issues on-site costs a significant amount of money. The assumption was made that one issue can be resolved by 2 people in 2 days. In total it results in 7104 h spent. With an hourly rate of 20 EUR solving these issues would cost more than 140k EUR.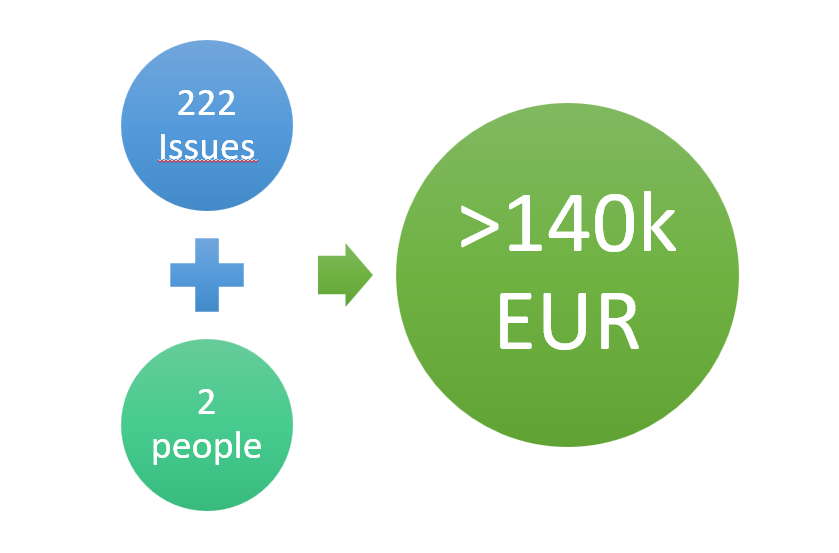 The fourth
WP
in
cluded the
comparison of
the
bill of quantities developed
during
the design stage with
quantities
stored
in BIM. Several assumptions were made:
Models

precisely represent the design

solutions

It is impossible to compare all

of

BOQ positions with BIM.

BIM and design were with different detail levels.

Only physical volumes were compared.

Labour costs and effort were not tested.

Autodesk
Revit was used
- generated
schedules
in separate models, that
correspond to BOQ structure
,
were
exported to
MS
Excel.
Despite the mentioned assumptions,
several important conclusions were made:
H

uman errors can be reduced significantly

by using structured information

Data Science can be used to make better decisions which are based

on

information

stored

in BIM

The average d

elta

for quantities between models and BOQ

exceeded

10%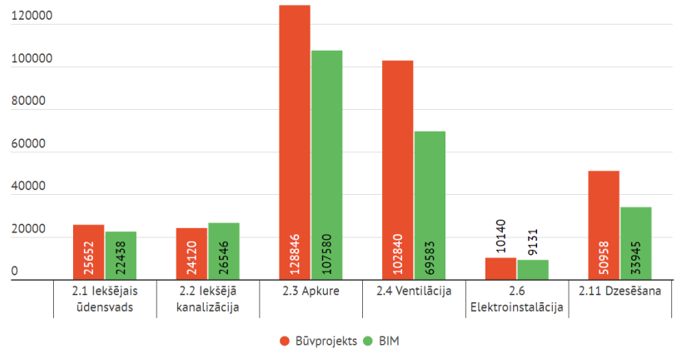 The fifth WP was to develop 4D simulation by adding confirmed construction schedule data to BIM elements. The process showed that provided schedules are uninformative, under detailed and virtually unusable for construction works planning. The video below shows how interior works would be done. The exterior walls are made transparent.
Laser survey

This WP was initially out of scope, and it was delivered for free to showcase the potential of laser surveying during construction. It was decided to scan after all the demolition works are done. Developed architectural and structural models also included this phase, and it was feasible to compare the differences between reality and BIM developed based on the original design.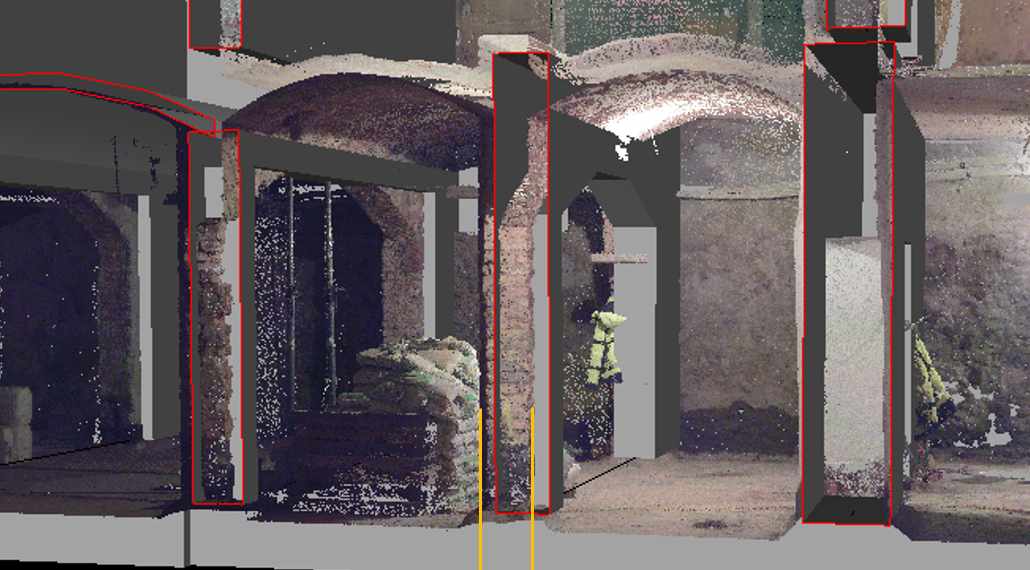 Wall location differences comparing point cloud with BIM

The Pilot was intended to show what are the benefits of BIM for the Latvian construction industry, especially for state and public clients. It can be admitted that this goal was achieved. Here are the main conclusions from the ITED team:
It is expensive not to use BIM. 10-20% costs could be saved by better design, coordination and planning.

Traditional 2D methods are insufficient. It is nearly impossible to coordinate design without 3D models.

The Pilot defined only a few BIM uses. In reality, there are hundreds, that can deliver value to the projects.

Laser survey is an obligatory technology for reconstruction projects. The initial costs are outweighed by the avoidance of losses due to design errors.

Great quality and results require strong competence on both sides - the client and the supply chain.
The Pilot proceeds with an as-built model development. More conclusions will be made and we will write about them. Leave a note if you want to hear about the second phase.
Conclusion
ITED's team was responsible for the project management, MEP model development and 5D scheduling in for this project.

If you want to know more about how to get the benefits for you projects schedule a meeting with us!
Want to know more? Contact us!


1 comment
- Case Study - BIM pilot project of Latvia
Yousef Shehab - January 12, 2021 at 12:17 pm
.
Leave a reply